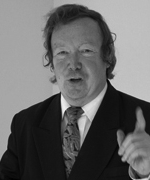 Dr. Uolevi Lehtinen, has been a professor of marketing in several universities during 30 years. Lehtinen has been a dean of economic-administrative faculty, chairman of council and rector at the University of Tampere, Finland.
He has been a member of board or council in several firms and other organizations. He is an honorary doctor of the Russian Academy of Economics and honorary chairman of the Society for Business Administration.
His fields of expertise are services marketing, relationship marketing, international marketing, consumers' and managers' decision making, and marketing theory. He has published about 170 scientific publications, more than third of those in refereed international journals or proceedings in seven languages. He has also been in the editorial board of four international and two Finnish journals.