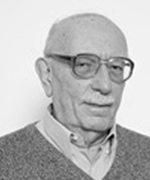 In Memoriam: Roberto Kertész, MD., Ph.D.
Education
MD(physician), 1962. Specialist in Psychiatry, 1965
Professor and Ph. D. in Medicine, School of Medicine,
National University of Buenos Aires, Argentina
Work experience
2012 and ongoing, Rector Emeritus and Director of Postgraduate
Studies and Continous Education, Univ. of Flores
Previously, Rector, since 1995.
President of the University Foundation since 1994.
Scientific events
Organized over 40 international and national conferences, as president or general secretary
and presented over 800 lectures and seminars in 14 countries
Training and supervision
Personal analysis with Dr. Enrique Pichon Riviére, introducer of social psychology in Argentina. Supervision with Professors Edgardo Rolla and Mauricio Knobel (Argentina), Leopold Bellak, Eric Berne, Milton Erickson, Theodore Ayllon, Arnold A. Lazarus, Jacob Moreno, Paul Rosch (U.S.A.), Hans Selye, Thomas Ban, Eric Wittkower (Canada), Lennart Levi (Karolinska Institute, Sweden)
Teaching experiences
2014, since 1995-Full Professor, Doctorate in Psychology, Univ. of Flores
and former Professor, Kennedy Univ. Doctorate career,1973-1975,
Buenos Aires.
Consulting and training activities
International teacher and consultant in new behavioral sciences, in governmental and private institutions, 1974 to1994
Introduced Transactional Analysis (delegated by Dr. Eric Berne) and Multimodal therapy (delegated by Dr.Arnold Lazarus) and psychosocial stress management (supervised by Dr. Hans Selye) in Latin America, Spain and Hungary.
Publications
20 books as sole or main author and contributor in other.
Scientific papers
Over 100 published in Argentine and foreign Journals, several of them refereed
Distinctions (summary)
Honorary Doctorate, Soka Univ. of Japan, Honory Professor,Ricardo Palma, San Martín of Porres and Norbert Wiener Universities (Peru) Honorary Member, Polish Academy of Medicine and Albert Schweitzer Institute (Poland), of Academia Tiberina(Italy) ItaliaInternational Transactional Analysis, etc.