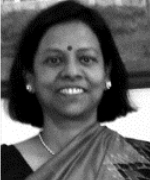 Mondira Dutta, PhD, is currently the Chairperson of Centre for Inner Asian Studies, School of International Studies, Jawaharlal Nehru University, New Delhi, India. She has been the Director of UGC Central Asia Area Studies Programme for three consecutive terms. She has been actively involved in teaching and research activities for over three decades.
Her fields of specialization include Gender & Human Security with particular reference to Violence against Women in South Asia, Afghanistan and Central Asia, Impact Studies and Child Labor. She has been the former Chairperson of the 'Gender Sensitization Committee against Sexual Harassment' (GSCASH), Jawaharlal Nehru University (2008). She was awarded the Lifetime Achievement Award, at the International Congress of Women for Justice, Equality, Peace and Progress, sponsored jointly by United Nations Information Centre for India and Bhutan, Govt of India, FICCI and The India Today Group, New Delhi, on 7th March 2009.
She has been a UN Women consultant from 2009 to 2013 and also been a Consultant to several national and international organizations. To name a few include the British Council, Ford Foundation, NOVIB (The Netherlands), the DFID, The World Bank, International Human Rights Commission, Geneva, Human Rights Commission (Maldives), UNESCO, UN Women (South Asia), besides the government of India's Department of Administrative Reforms & Public Grievances, Ministry of External Affairs, Ministry of Women and Child Development and the National Commission for Women.
The National Strategy on anti–trafficking measures, from Aug 2011 to Dec 2011. During the period her study 'Understanding Gender Equality, 2012' was published by the National Commission for Women, Govt of India and released on 13 March 2012. She has been a guest researcher at the Stockholm University, Sweden, for a period of one month from September – October 2012 for research and lectures.