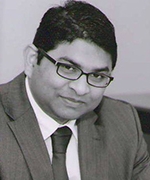 Dr. Jose Noronha Rodrigues holds a PhD in law from the Santiago de Compostela University, Spain. He works as an Assistant Professor at the University of the Azores and is also Director of the Centre of Law and Economics Studies at the University of the Azores, researcher and coordinator of Law courses of the Department of Economics and Business at the same University.
He is a Lawyer with law office in Ponta Delgada, Azores, Portugal. He is a member of the editorial board of numerous international scientific journals including the European Scientific Journal (ESJ). He is also a member of various academic institutes and centers worldwide.
Dr. Noronha Rodrigues is author of the book "A identidade e (des) identidade dos valores europeus", "Colectânea de Legislação sobre o Estatuto Político Administrativo da Região Autónoma dos Acores" and of many papers in international and national journals.
Dr. Noronha Rodrigues is an ESI chief of International Legal Studies Center.