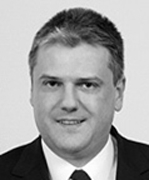 István Sándor is associate professor of law at the Faculty of Law of Eötvös Loránd University in Budapest since 2005. He is also associate professor at the Faculty of Law of Károli Gáspár University of the Reformed Church in Budapest since 2004, where he served as the Head of the Department of Civil Law between 2004 and 2012. He is also a practising lawyer and partner of Kelemen, Mészáros, Sándor and Partners Law office in Budapest since 1998. He graduated as a political scientist in 1997.
He visited several universities (Trier, Göttingen, Padua, Groningen, Vienna, Berlin, Helsinki, Urbino, Brno) and research centres, such as Leopold-Wenger-Institute für Rechtsgeschichte (München), Institut suisse de droit comparé (Lausanne), Max-Planck-Institut für Ausländisches und Internationales Privatrecht (Hamburg), Institute of Advanced Legal Studies (London) as research fellow or visiting lecturer.
He is member of the International Bar Association (IBA), Interlegal, International Federation of European Law (FIDE), Society of Trust and Estate Practitioners (STEP), Selden Society and several Hungarian law and scientific associations.
He published several books and articles in company law, trust law, legal history and civil law.